How-to Guides
Installation Guides
DH1200
The dehumidifier can be placed in many places out of sight including in the attic,cellar, ceiling voids and even in cupboards.
DH1200 has a more powerful turbo fan so longer ducting lengths can be added. Air can be drawn through several vents by ducting to the unit, dried then ducted to a central vent in the home to recirculate.
When ducting is used it is advisable to use an external humidistat EPHUM24DF to get a faster reaction time to changes in humidity. Also draw air from bedrooms or bathrooms to prevent any feeling of draughts.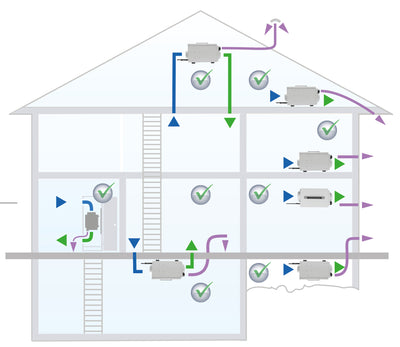 DH800
The dehumidifier is an ideal space dryer. Put in a room, connect the exhaust and simply dry the space. The room can be any room in the home.
Both models are perfect even for outside spaces such as holiday homes & garages as they work below freezing and are unaffected by frost.
Also, both models are very portable so can be carried to places for temporary drying such as boats, RVs & vacation homes.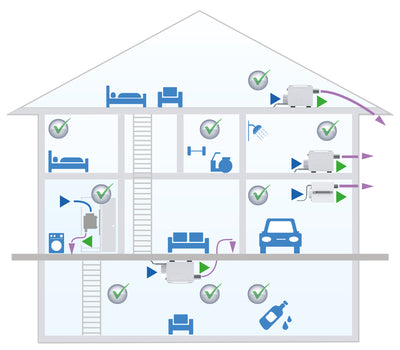 Important Product Features
THE DH1200 USE A TURBO FAN AND CAN DUCT DRY AIR OUT.
THE DH800 HAS AN AXIAL FAN AND NO EXHAUST OPTION FOR DRY AIR.
No dry air outlet flange to connect duct on DH800 / EPD30
PRO or INOX models are 316 marine grade stainless steel
Usual construction galvanised steel with epoxy paint finish
Videos
Crawl Space Dryfan Dehumidifier
DH1200/ DH800 Europe Region Movie
DH1200 LOCATING IN AN ATTIC
A popular location for the DH1200 is in the attic or in a void in the attic, crawl space or basement.
1, Exhaust the wet air through a duct to an overhang eaves through soffit boards. It is also possible to put the exhaust duct through the gable end of the home. In both instances a suitable vent cover should be used to prevent animals entering the duct and help prevent any wind blowing back into the exhaust. Ensure the exhaust is on a slight decline or insulate the exhaust if not insulated .
2, Push dry air to several points whether bedrooms or bathrooms with ducting. These are usually the worst affected rooms such as spare bedroom or bathroom. Use Y-connectors to increase the number of outlets. Blowing dry air into these rooms may feel draughty only if the air stream is in contact with human skin. Outlet grills should avoid these areas and be position in corners for instance.
3, Damp air from the home can be taken from one central point. Usually, this is on the landing area at the top of the stairs. Moisture in the home will migrate upwards from the lower floor/s. The convection current in the home means damp air rises. Drying homes on one floor may need additional fans to circulate the air or more than one dehumidifier if a larger home. Separate consideration is needed for basements, crawl spaces, attics, conservatories and garages.
4, Leave doors slightly ajar to promote air flow around the rooms
5, A humidistat is built into the DH1200. However, when ducting is fitted to the dehumidifier, it may be necessary to use an external humidistat such as EPHUM24DF which fits in seconds. This humidistat can be placed ideally on the top of the stairs or next to the home heating controls for more accurate monitoring of the air and improves dehumidifier reaction time if that is key.
6, The filter of the dehumidifier will need to be cleaned periodically. To avoid having to go into the attic or ceiling void to clean the filter, consider adding a suitable filter grill to the inlet that includes a dust filter built in. These can then be periodically cleaned rather than the air filter on the dehumidifier itself. That filter can be removed provided they are of comparable filter material which is reticulated foam.
7, On longer duct runs, consider using wider than prescribed to increase air flow to maintain the level of airflow. See below.
8, A power supply to the dehumidifier should be from the mains supply. Although, the maximum power consumption is only 500-550 Watts, power should not be taken from the any lighting circuit. Consult a qualified electrician.
9, Set the RH (Relative Humidity) control to a low (10%) for typically 2-3 weeks. It will work continuously. After the humidity in the home is under control, increase the RH level to a higher level that is right for your home typically 60-65%. In that way the dehumidifier will switch on when needed. Times can be added but we do not recommend. Read More
10, Remember to periodically clean the inlet grill filter.
Picture by customer who bought EPD50 in New Jersey
GARAGES CAN BE A COLD SPACE. PROTECT CARS, TOOLS AND STORED ITEMS
Rule of Thumb Guide All Installed In Similar Fashion
DH800 – 1 Car Garage
DH1200 – 2 Car Garage
EPD150 / DH2500 – 3 Car Garage
DUCTING VAPOUR UPWARDS AND EXTENDING DUCTS
Keep all ducts as short as possible and gradual bends to maximise airflow. If spiral wound flexible ducting is used ensure it is stretched for minimum air resistance. Use smooth plastic such as drain pipe for maximum efficiency. Ensure access to the air filter is possible.
Use wider ducting than prescribed to improve air flow on longer ducts. Check all air flows before ducts are fitted and after to compare performance.
As a vapour, water can indeed be made to go upwards.
Take care not to let any condensation that can build in the exhaust duct run back into the dehumidifier if the exhaust is inclined.
Insulate the exhaust or use a suitable P-trap.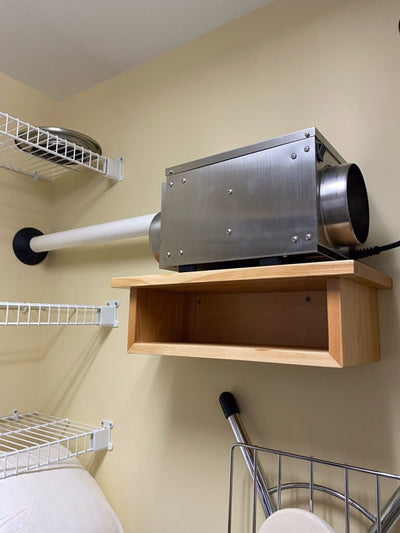 USE UNDER THE HOME IN CRAWL SPACES, CELLARS OR BASEMENTS
Both dehumidifiers are ideal for crawl spaces.
Dry air will equalise in the space but it is important there is a flow of air to prevent dead spots. These are pockets of dry or damp air in the room being dried. Use ducting if needed to help circulate & distribute air. It is better to vent trough a duct rather then feed air in via a duct. Additional air movers may be needed over a larger area with low head height. However, ducting air both in and out is also possible on the DH1200.
Allow air to flow around the space. Ensure the dehumidifier is not blowing or sucking air from an alcove, recess, fireplace or corner of the space. Air should be directed in a circular direction around the space being dried.
External air vents can be shut off as there will normally be enough air to replace the exhaust air through other slight openings in the room. Very few rooms are actually air tight. Ensure ducts are short as possible especially the exhaust duct.
Don't forget to clean the filters. Dust will prevent air movement and the amount of air that can be dried..